Welcome
A misplaced Metro Terminus at Charlemont.
We all want a Metro for Dublin.
We need a Metro that works for Commuters, the Travelling public, Tourists and the Communities that surround it.
The NTA-TII plan to place a major urban Metro Interchange and Terminus at Charlemont in simply the wrong place! This would make Metrolink of little value to most people on the Southside.
Help us ensure we build a Metro that works for all of Dublin.
2018
The original Metrolink plan
✓ North South spine
✓ Swords - Airport -Sandyford
✓ Charlemont a stop along that spine
2019
BUT this plan meant
╳ Green luas closed 4yrs
╳ South communities segregated
2020
New Metro plan
╳ South Metro scrapped
✓ New plan Swords-City
╳ AND a spur to Charlemont
2021 -> NOW
Charlemont =
╳ Major Transport Interchange
╳ Major Terminus station
╳ End of Line of Metro
╳ Point of entry to Metro for ALL South Dublin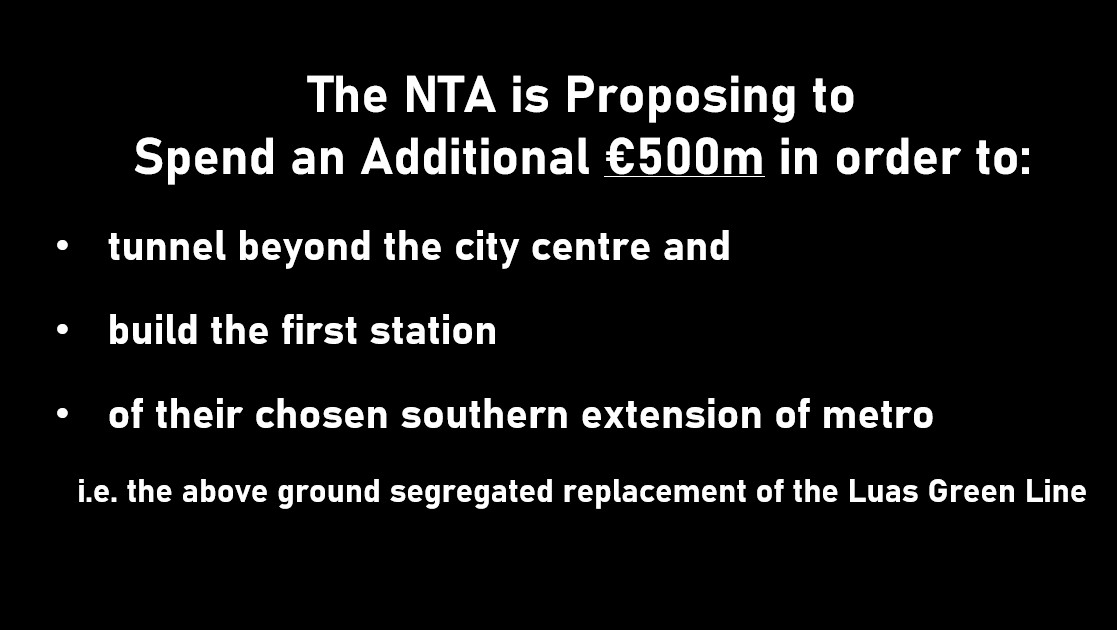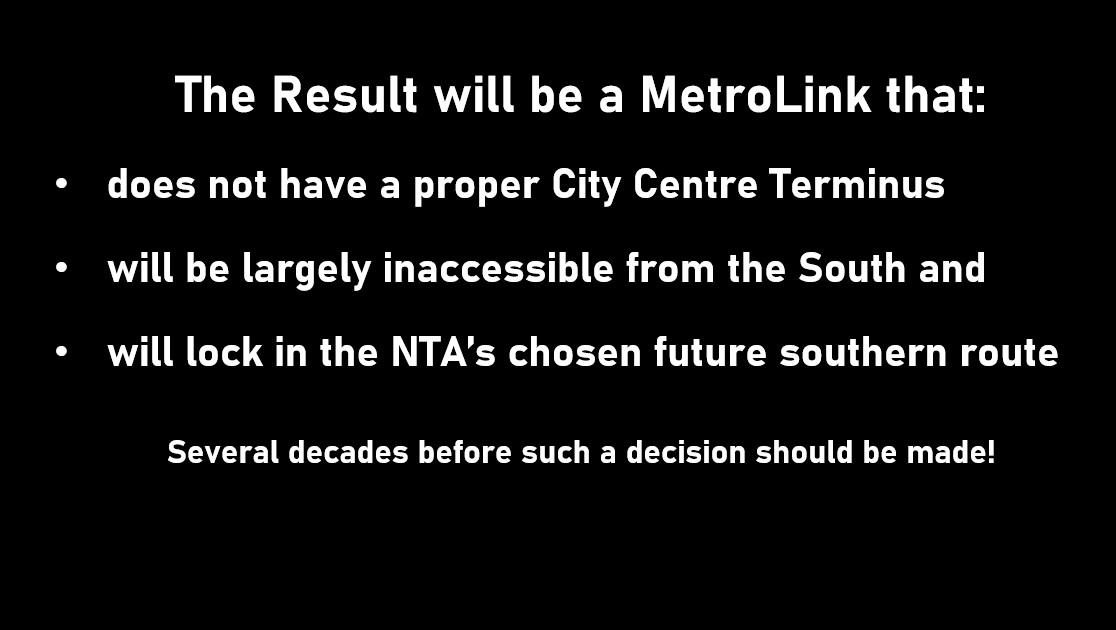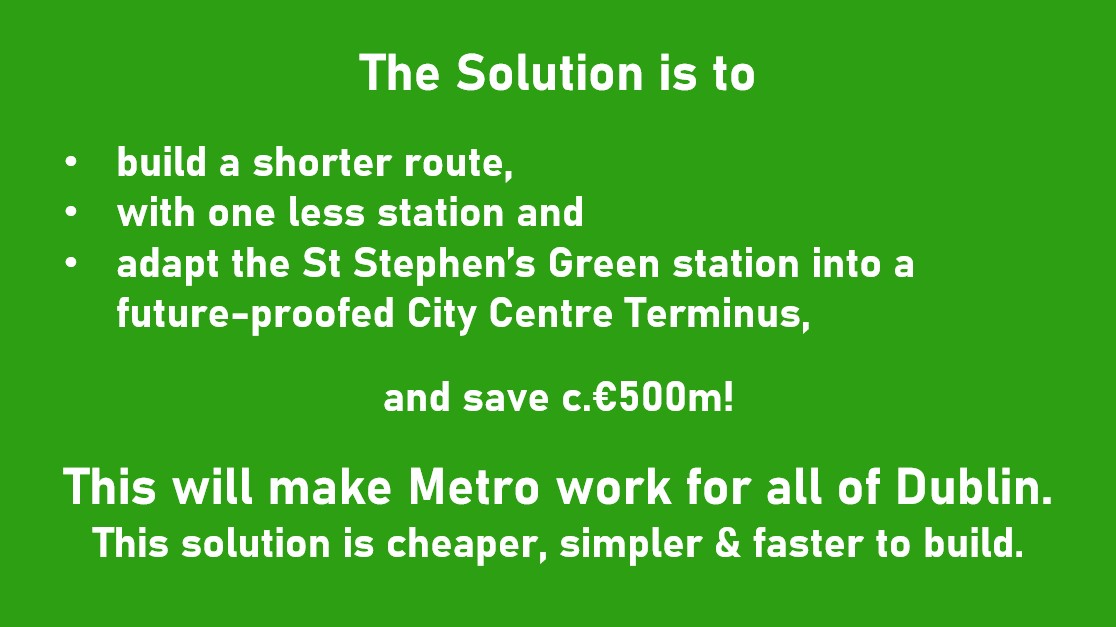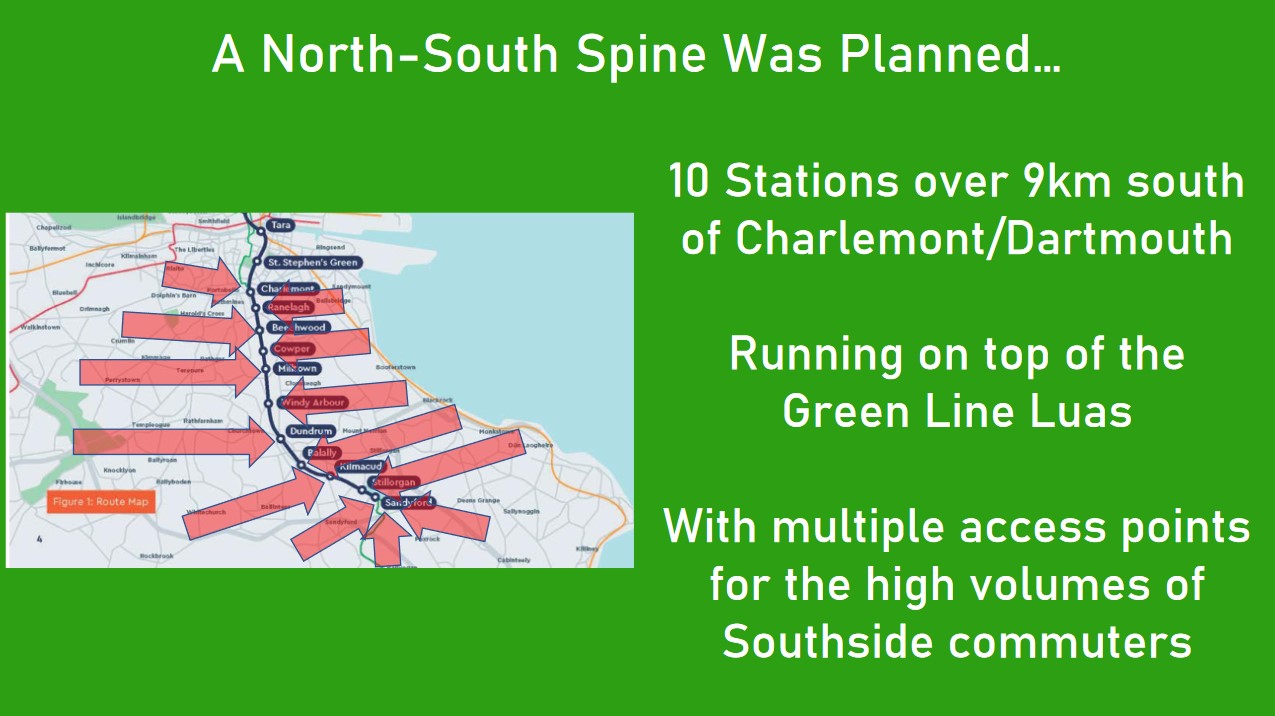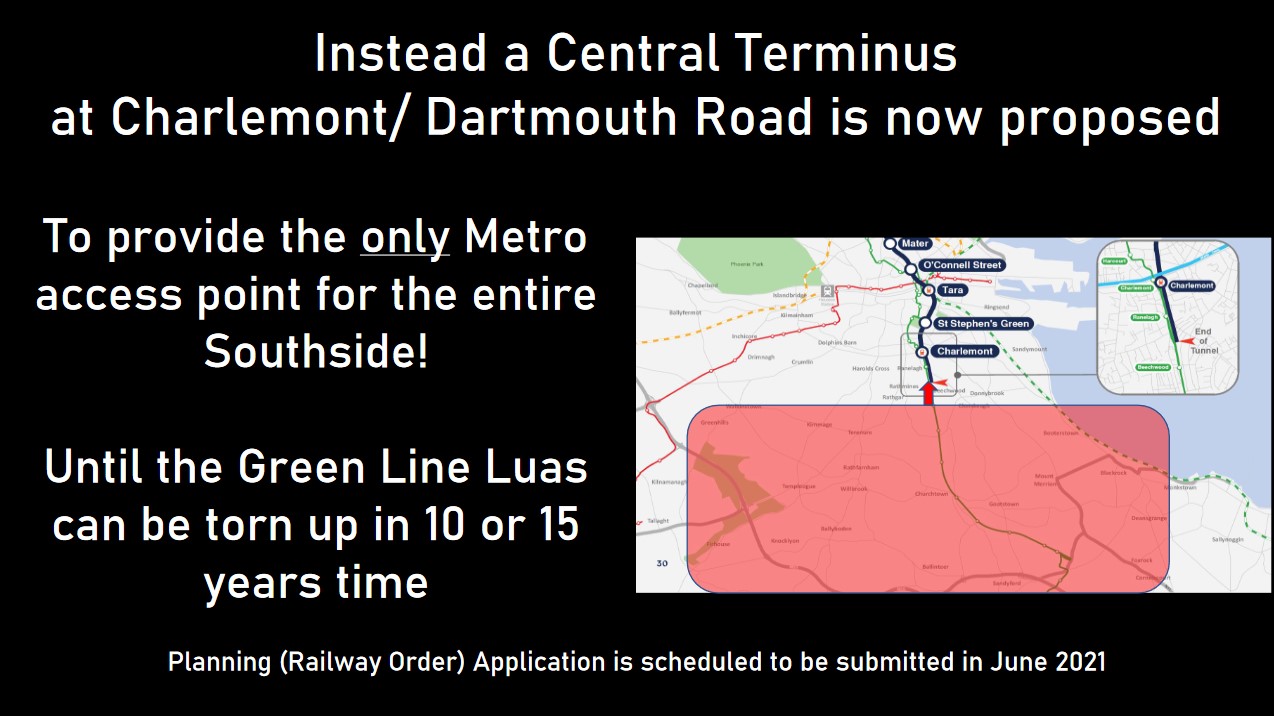 What this means for Commuters, Travelling Public, Tourists & the local community.
╳ Huge Traffic congestion along the already traffic black spot at Portobello on Canal
╳ A poor location for a major Terminus - land locked on 3 sides, Canal on 4th side.
╳ Very poor access in a confined, complex site,
╳ Poor interchange Luas to Metro - above ground luas, 400m walk to below ground Metro
╳ Poor transport connection for bus, taxi and car access.
╳ No drop off or parking availability in the area.
╳ Compromised and inaccessible Terminus for those with mobility needs.
╳ Terminating at Charlemont locks in the Green Line replacement as the only viable future Metro South Route – yet no decision on Metro South is being made now.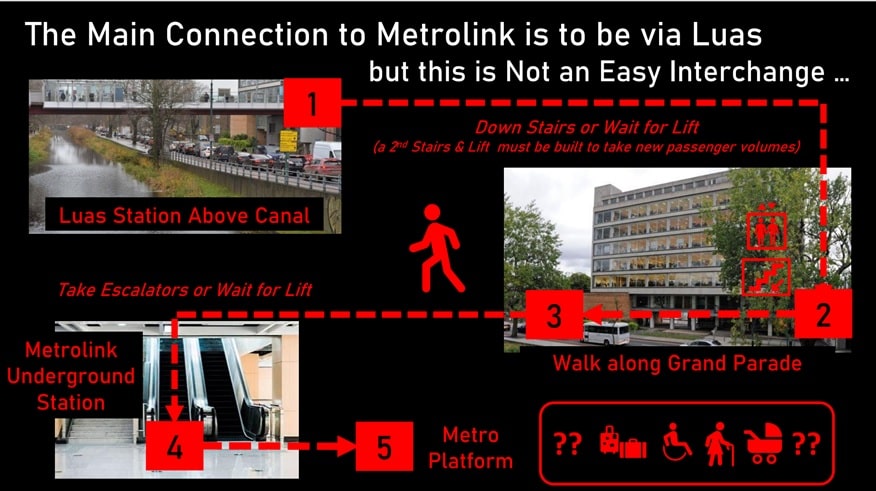 But we believe there are other solutions
✓ Terminate in the city centre. For example: St Stephens Green is a bigger, better, far more accessible site for all of the South side.
✓ In the heart of the city for shopping, hospitality, accommodation
✓ Easy connection to Luas lines, for example, St Stephens Green or O'Connell Street
✓ Easy access for buses, taxis, car drop offs, walking, cycling.
✓ Keeps all future South Metro options open - Charlemont being too far south limits scope to bring Metro to key urban densely populated areas eg Rathmines, Ballsbridge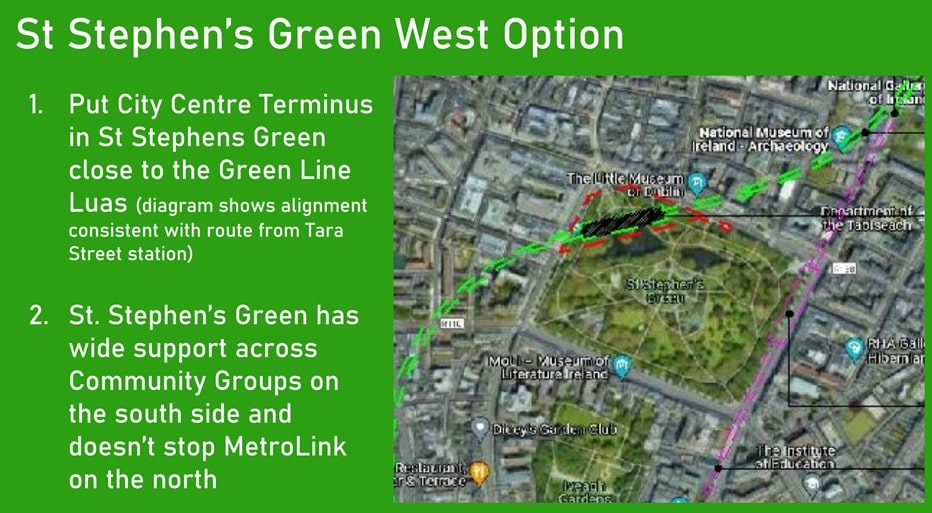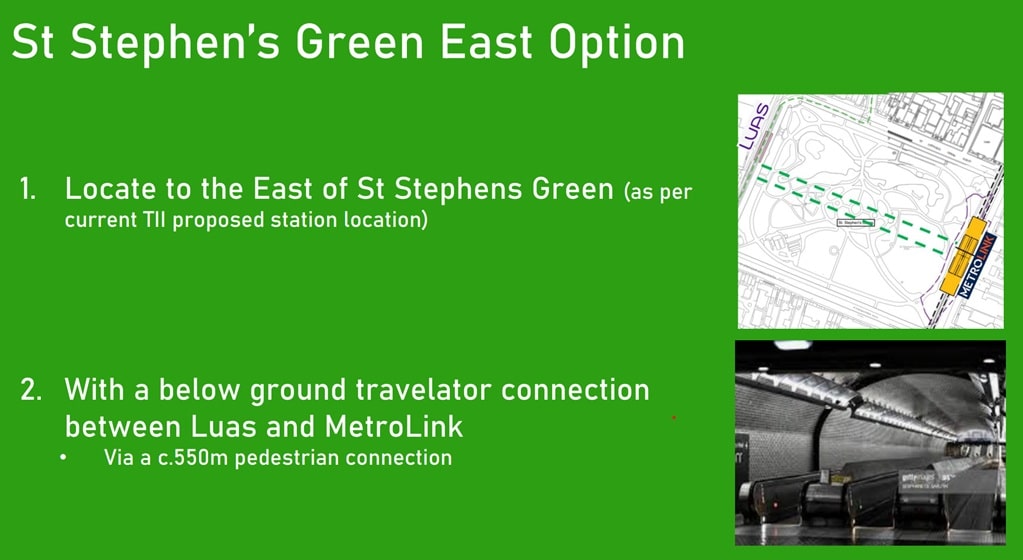 We are calling on the Minister, Politicians, Councillors & our Elected representatives
✓ As a Community we have engaged with NTA-TII for the past 4 years. They will not listen to our concerns.
✓ We now MUST use our Elected Representatives to help
✓ We want them to mandate NTA-TII to complete an Independent Study on the most suitable location for a City Centre Terminus.
✓ No Study was ever completed to select Charlemont as a terminus end of line major interchange station.
✓ Charlemont has been selected by Default NOT by Design.
✓ Charlemont only makes sense if the Green line is replaced with Metro.
✓ It is time for the NTA-TII to substantiate with evidence the facts that Charlemont is the 'optimal' location when compared to other potential locations eg St Stephens Green.
Work on Charlemont metro station begins before planning application for line lodged
What is happening next
1. Meeting with Minister Eamon Ryan - we are asking to meet him asap.
2. A Public meeting will be held - in April 2022
3. Further meetings with Politicians and Elected representatives
4. Government Cabinet decision on Metrolink Business case April 2022
What the local community can do
1. Get involved, Understand the consequences. Have your say.
2. Raise this issue with your Elected representatives
3. Get your neighbours and households involved.
4. Attend the Public meeting in April 2022
5. Demonstrate your support
6. Email us for more information or to get involved - misplacedterminus@gmail.com